Non-Lethal Safety Products and Apps for your Smart Phone
Questions?
FACT - LEARNING TO FIGHT BACK
As reported on the Bureau of Criminal Statistics website evaluating all sexual assault and rape cases reported during the year.  On average, 75% of cases where the victim was able to fight back effectively, the attacker gave up and fled the scene prior to completing the rape.
Questions?
NEW SAFETY PRODUCTS & APPS
ROAR for Good &
The Athena Pendant

Meet Athena & the ROAR App
As seen on KBOI Channel 2 News
with Haley Kramer Reporting
All you do to get help is push the button!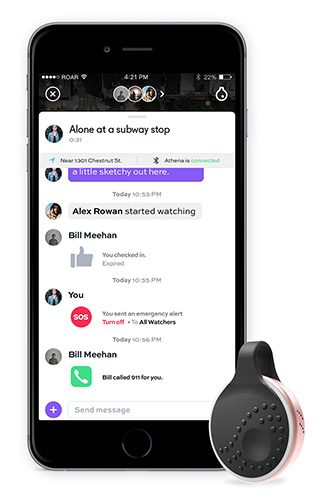 Meet Athena, a "wearable tech" pendant that allows you to keep in touch with people who care about you when you feel most vulnerable. By updating your status, you can send a message to people you select from your list of contacts, letting them know that you are…
having car trouble on the freeway, and need assistance!
walking back to the dorm from the library on campus, and you'll update your status when you arrive.
showing a house to a last minute potential buyer, and you'll check in again in 45 minutes.
meeting friends for drinks, but expect to be home by midnight
literally any situation you find yourself in, yu can customize the message and let your loved ones know what is happening, and might potentially need help.
Click on the following link to learn more about ROAR for Good, Athena, and their organizational mission to put themselves out of a job! Roar for Good & Athena
TRADITIONAL PERSONAL SAFETY AND NON-LETHAL DEFENSE
Pepper Sprays

Stun Gun / Flashlight Combo